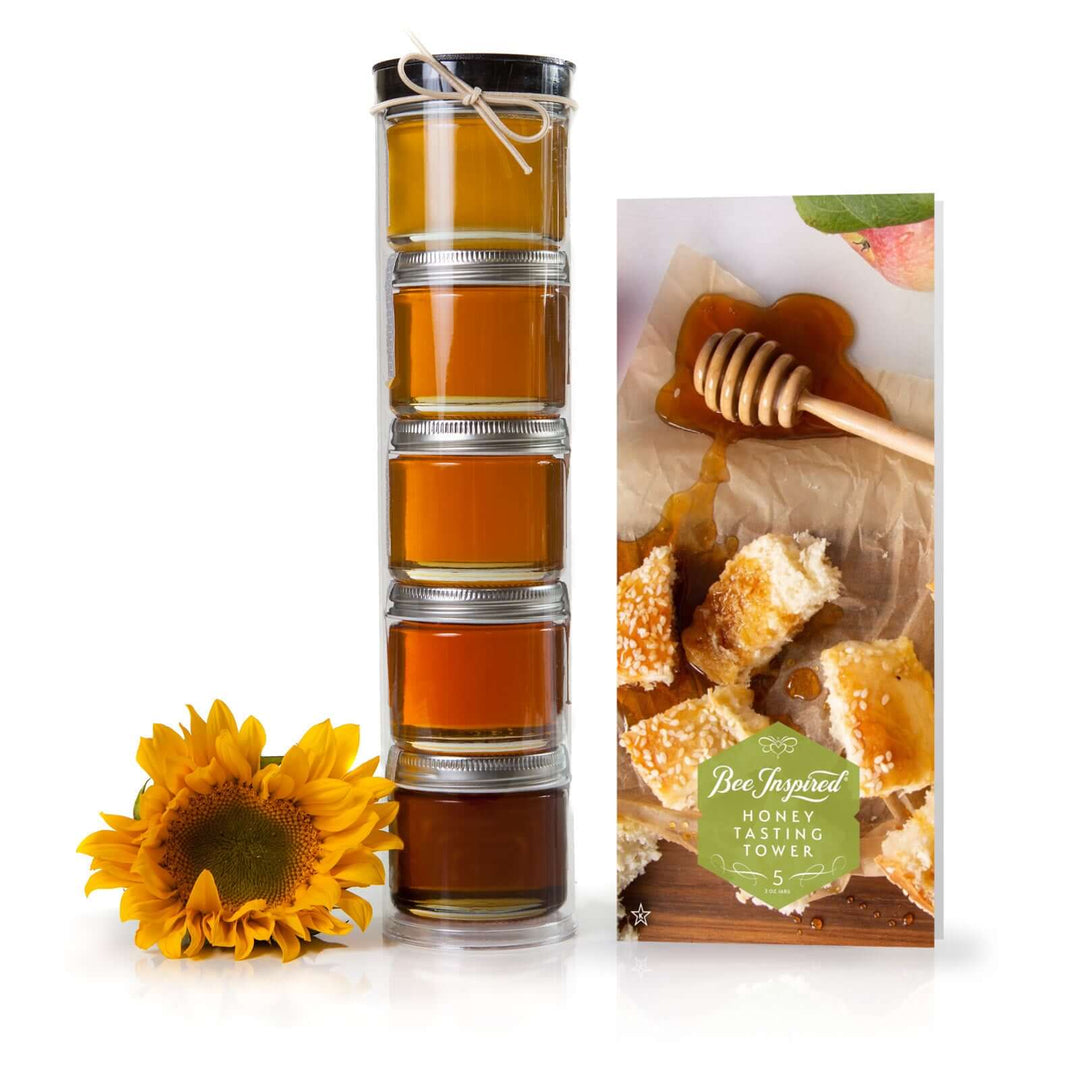 Honey Tasting Tower
Free shipping on orders $75+
Ships Monday-Thursday from Baltimore
Ships in 1-2 business days
"We received the tower as a gift and have now sent one to each of our children. They were a big hit. The flavors are wonderful."
Our Tasting Tower is one of our most popular gifts. To put it simply, it's a tasting flight of honey that is similar to a tasting flight of wine or beer. You get to experience five unique American honeys. Our selection includes a variety of artisanal honey from mild and delicate to bold and dark, creating an unforgettable honey tasting experience. With the enclosed tasting booklet, you can learn more about each varietal, as well as how to pair each one with food for an even more delightful experience. Voted best housewarming gift by Cafe Mom. Featured in Woman's Day and Good Housekeeping as best Rosh Hashanah Gift.
Pure, raw, and Star K Certified Kosher
Packaged in a gift-ready tube with an instructional booklet
Entirely sourced, crafted, and packaged in the USA
Includes one each of five Honey varietals
2oz each
Honey varietals vary, and your Tasting Tower may include Spring, Clover, Holly, Sweet Clover, Wildflower, Blueberry Blossom, Orange Blossom, Buckwheat, or Avocado Blossom. Keep in mind, some honey varietals may crystalize over time - but that doesn't make them any less delicious!
Waxing Kara's Honey Tasting Tower tells the story of the flowers surrounding a hive. This is a collection of small-batch, artisanal, and varietal honey, accompanied by a booklet of tasting notes.
We've included various varietals that range in color and flavor from light and fruity to dark and earthy. Sample the honey from light to dark. Our Tasting Tower is certified Kosher (it's perfect for Rosh Hashanah) and as a hostess gift.
All orders ship via UPS Ground. We DO NOT ship to PO Boxes.
You can also order and pick up from Honey House in Owings Mills, MD.