Celebrate nature's delicious gift that nourishes mind, body and skin. Our berry collection is inspired by honeybees.
Are you in search of products that are as delicious as they are luxurious? Look no further than our berry-based line of edible and skincare treats. 
Our edible selections include Blueberry Blossom Honey, which hails from blueberry blossoms from high-bush blueberries in Southern New Jersey. Real blueberry blossoms for a fresh and fruity taste, as well as Blueberry /lollipops that are perfect for satisfying your sweet tooth. For a pampering experience, try our Wild Strawberry Scrub and Lip Gloss, which will leave your skin and lips feeling soft and silky, and deeply moisturized.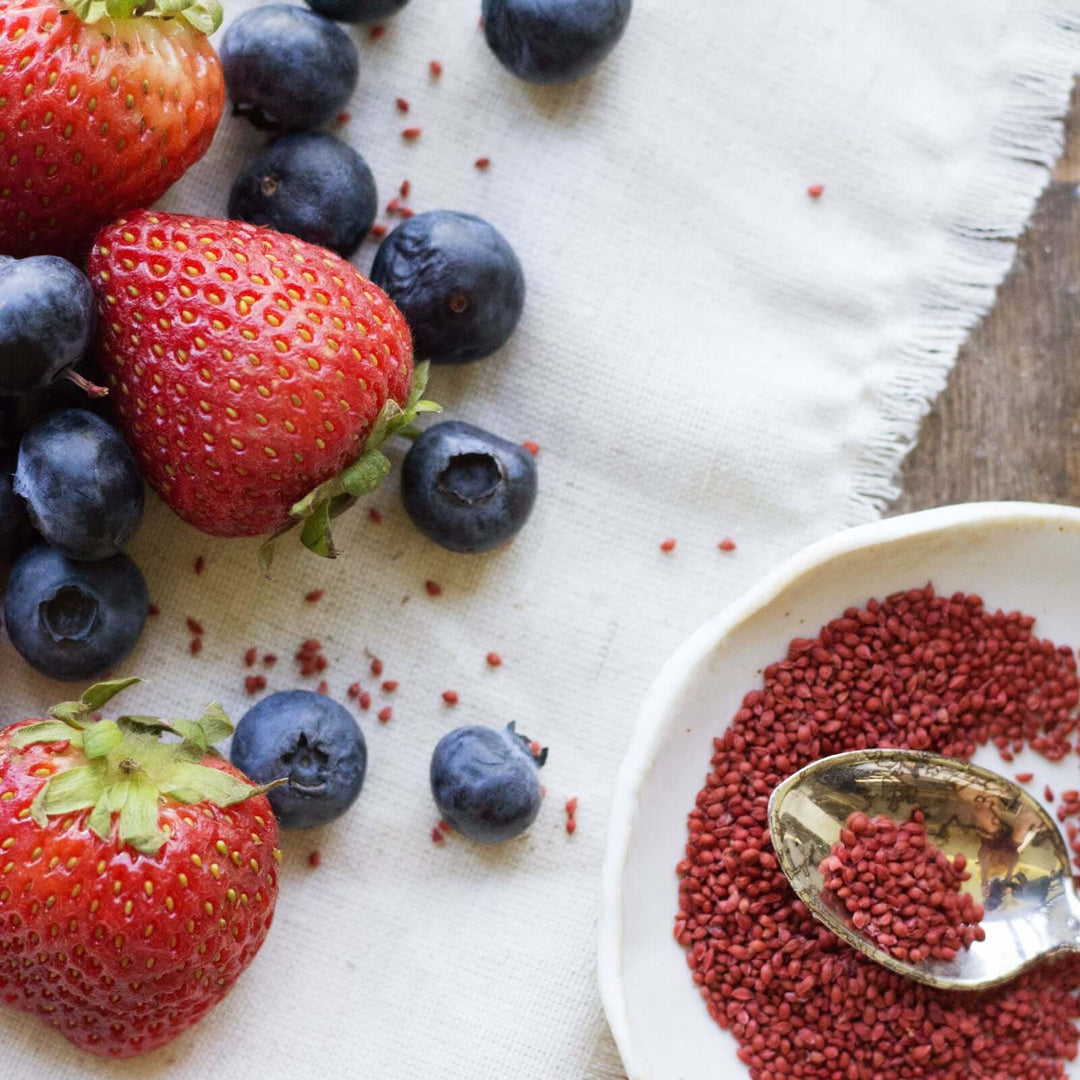 Explore the bounty of nature with our berry-infused skincare collection. Our invigorating body scrub and butter combine the essence of green laurel, ripe summer fruits, and soothing botanical extracts, leaving your skin refreshed and tantalizingly fragrant. Elevate your ambiance with our heavenly berry-scented candles, filling your space with a delightful aroma that lingers in the air.
Did you know that berries are dependent on bees for their existence?
By embracing our berry-based offerings, you not only savor the natural goodness of succulent fruits but also support the delicate ecosystem of bees. Did you know that berries rely on bees for pollination? Bees play a vital role in ensuring the growth and abundance of this delightful fruit. Their tireless efforts can boost the berry harvest by up to 36%, preserving the vibrancy of the berry industry and maintaining affordable prices. Let us cherish and protect our honeybee pollinators, for they are the guardians of our beloved berries.
Treat yourself or someone special to the extraordinary pleasure of our berry-infused treasures. Experience the unity of sensory indulgence, informative discovery, and communal appreciation today.
★★★★★

I purchased the Strawberry Body Scrub for myself and then bought it for all my friends for the holidays. It works great and leaves your skin soft, but it smells even better. Get yourself some!!

Amy S.
★★★★★

This is the first time I have tasted Blackberry Honey. I was pleasantly surprised by the unique taste of the honey.

Anjana
★★★★★

I LOVE [Wild Strawberry Body Scrub]! It's by far the best scrub on the market. It smells divine and leaves my skin so soft!

Kim
★★★★★

This [Wild Strawberry Body Scrub] is *nuts* awesome. And I'm not even a body scrub person! It smells fantastic and leaves my skin so smooth and soft. It's truly amazing.

Colleen
★★★★★

[Wild Strawberry Body Scrub] smells so good it makes me want to eat it! It leaves my skin looking so refreshed and feeling so soft. One of my favorite scents!

Adrianne
★★★★★

Goes on smooth, not sticky/greasy. The scent reminds me of my carefree childhood summers, running thru fields, climbing trees...all's well in the world. Thank you for [Place in the Sun Body Butter].

Rowena
★★★★★

[Place in the Sun] Body butter goes on smoothes and hydrates your skin perfectly. What I like most is the amazing smell. It's over powering and can be used during any season of the year. Love it!

Linda W.
★★★★★

[Strawberry Lip Gloss] tastes very sweet (in a good way) and is nicely moisturizing.

Jason B.